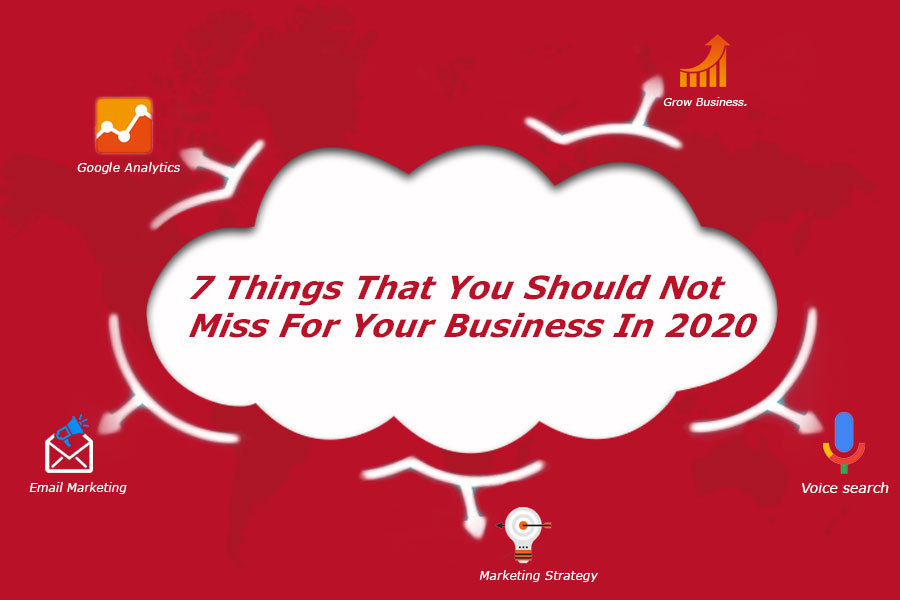 The year 2020 is going to witness some of the drastic changes in digital marketing trends. There is a lot of buzz on a superficial level about the SEO, voice search, and other new trends. In this article, you will be given an insight into the top trends in digital marketing for the year 2020 and how these trends are going to affect your business. At the end of the section, we have discussed the methodology to adopt a suitable digital marketing agency for your business.
Think beyond Google Analytics
Google analytics is an excellent tool from a digital marketing perspective. But the dynamic changing environment in digital marketing has made it imperative essential to adapt to new channels also. In the year 2020, we are going to witness new intelligence sources like Google Data studios more in trend. The choice of data tool wills very much depends upon the need for an analytic solution for each company. In general, such a data tool will be preferred, which integrates the database of the company in a more precise manner.
Voice search will not be the key to revenue
Voice search is trending as a hot topic in digital marketing all around. And the buzz is right to a sense also. According to the survey, about 50% of queries will be made through voice search. But will these searches convert into sales also? The whole winning strategy is to capitalize on the voice searches into sales. In the year 2020, jetson al will gain a special place in voice search as it can customize each customer's interaction for future purchases. So your marketing plan should not include more focus on voice search but on the fact that how this voice search could be transformed into constructive and qualitative leads for your business.
It would help if you had an alternative channel for Email marketing
Have you noticed a drop-down in clicking advertisement emails? Yes, there is around a 9.4% decline in email clicking of customers. And this trend is going to be on a high next year also, and there will be a decline in the mobile click rate. To compensate for the decline rate in email marketing, new channels need to be opened. In this scenario, chatbots will show a drastic takeoff. Apart from that, mobile monkey and many chats will leverage facebook messenger, as they will connect it with WhatsApp and Instagram. Subscriber and another app with push notification technique will also in trend in 2020. always pay focus on the alternative of email marketing channels that your digital marketing agency is providing. Also, ask for the estimated leads expected from these new marketing channels.
Your online competitive edge will be transformed.
In your business, you could have a competitive edge on your competitors. But this competitive edge is going to dissolve in the year 2020 as every strategy or product could be copied. So instead of having a competitive advantage, it's better to focus on branding .you can see that in the real world where many of the celebrities have their own clothing lines, and it is successful just because of their name associated with it. So make a strong brand of your product or services to boost your business in the year 2020. Branding is something where your digital marketing agency will have the opportunity to show its talents. Always pay attention that your marketing plan should be designed in a manner so that you emerge as a unique brand in yourself.
Marketing will provide the opportunity to grow to each business.
Digital Marketing trends will be updated in the year 2020, but the automation will make a change in marketing techniques. SEO techniques will be more based on automation and AI. Where in previous years where most of the SEO techniques required manual work, the year 2020 will witness more of automation in these fields. Though in the earlier time, automation could be paid services the next time, it will be free and will create a level playing field for all digital marketing companies, whether a startup or established one. In the year 2020, there will be a level playing field for all businesses and startups; the digital marketing will be the tool which will make the difference. And to an extent, your digital marketing campaign created by your agency will provide you a competitive edge upon your customers.
One marketing channel is not enough
In the previous year, we have seen that one marketing channel was enough for the brand. For example, Facebook uses email contacts to ask more of your friends to join facebook. In the same manner, Dropbox uses referral while Quora use SEO for further addition of users. But in the coming year, only one marketing channel will not be enough to increase your client base. So it's time to boost all digital marketing channels if you want your business to grow. Therefore your digital marketing plan should have incorporated more than one digital marketing channel so that you do not lose your business in the new emerging technology.
A unique marketing strategy will give you the edge
One of the fundamental problems with marketing is to convert visitors to customers. The main reason behind it is the lack of proper marketing techniques that convert those visitors into customers. If you analyze what's wrong you are doing in marketing; you will find that your message is not hitting those visitors so that they can ultimately get converted into customers. You need to opt for personalized marketing so that your message hits your visitors.
So if you keep these points in your mind, you could boost your business digitally in the year 2020. Always pay focus on the digital marketing plan presented by your agency. Make a proper analysis as to whether they have incorporated these trends in the marketing plan or not. Your digital marketing can play a pivotal role in enhancing your client base. So choose your digital marketing agencies based on their ideas instead of their reputation.
SMAC digital agency provides the best marketing services to its clients. The company believes in structuring an overall digital marketing framework to boost the client's business digitally.