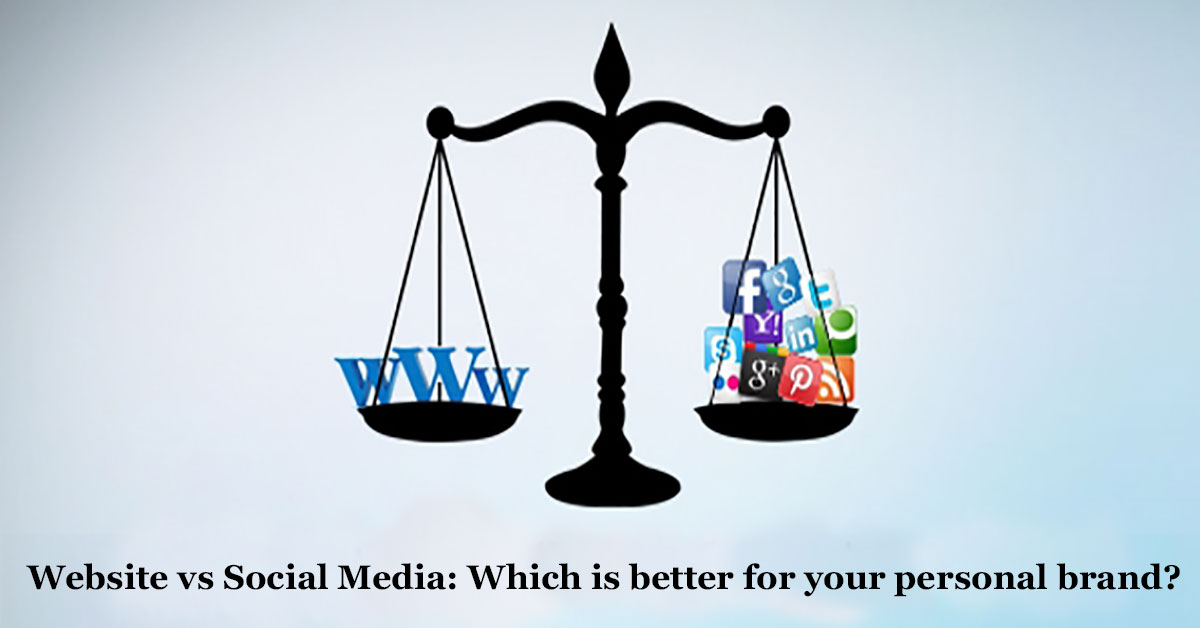 When it comes to marketing for your personal brand, website and social media play a very important role. Placing your brand in front of thousands of audience members makes it visible and therefore helps it to grow. In addition, sharing information about your brand over social media or websites helps you create an image that describes your values and skills.
We often forget that both social media and websites are important for a brand. Social media helps you reach more and more people; on the other hand, the website allows people to know more about your business, how you function and interact with you more personally.
Let us quickly look at the importance of both websites and social media one by one.
Importance of social media for your brand
It will help you to reach more customers, spread awareness about your brand.
With the growing usage of social media, you can now connect to a larger audience.
Branding on social media is free; you only need images and content that transfer your message effectively.
It has tools specially made for businesses to flourish.
It provides you with the quickest way to reach a larger audience without spending a penny.
A great way to connect with your customers as everyone uses social media.
Social media enhances your ranking on search engines.
Importance of a website for your brand
A website gives detailed ideas about your business to your customers.
It is the backbone of your online presence as all links of your content shared over the internet bring your customers to your website.
It makes your brand look genuine and trustworthy.
Your website will be the main location where your customers interact, make payments, buy stuff, check out prices and discounts.
There are a lot more facts that prove why social media and websites are important for your brand. It is also important that you are using both of these tools to their best advantage. To ensure that your brand grows well, we have provided certain tricks to help your brand grow faster.
1) Use appropriate hashtags: Despite not having a huge following on social media, you can still use trendy hashtags to reach a larger audience. First, do proper research on hashtags that go with your brand, and then put them accordingly.
2) Go with the trend: Stories and reels have been doing well compared to posts on social media. You can try making 10 to 15-second videos about your brand with good picture quality. They have a more engaging power than posts and tend to attract more customers.
3) Be consistent: It is important to post at regular intervals to increase engagement among the audience. Decide the posting hours and frequency according to your convenience, and then stick to it.
4) Give something to the audience: Your followers are not interested only in your advertisements, don't flood your feed with only ads. Instead, give them something useful, e.g., If you are a clothing brand, give them knowledge about various types of cloth materials, teach them different ways of wearing a saree through tutorials.
4) Find groups: Groups are a great way to reach people who already demand what you provide. Join communities and groups on social media that relate to your brand.
Tricks to grow your brand through the website:
1) Optimize your content to be SEO friendly: The content on your website should be SEO friendly so that search engines can easily find it. Several factors make your website SEO friendly, such as proper placement of keywords, attractive headings, proper meta description, and the format of your post.
2) Aim for simple design: The simpler the website will be, the easier it will be for the user to use it. Don't use too many buttons and graphics or transition on your website; they end up confusing the users. Make sure the people coming on your website get what they are looking for.
3) Provide your contact information: Your contact information should be easily available to your customers in case they have a query regarding your brand. Prevent putting your contact details somewhere hidden on different pages. Make sure that the information is itself available on the homepage.
4) Your website should be mobile-friendly: Not everyone will use a PC to surf your website. Hence the website should run properly on all devices, including mobiles.
5) Get to know your customers: Collect information from your customers through your website regarding their choices to recommend them related products and information.